A bartender job can be exciting with opportunities to meet new people, learn new skills, and enjoy watching the most popular events a TV can show while you're at work. Not only does a bartender enjoy the social part, but the job is also statistically proven lucrative. Before making your final decision to apply as a bartender, you should know the benefits and drawbacks involved in it.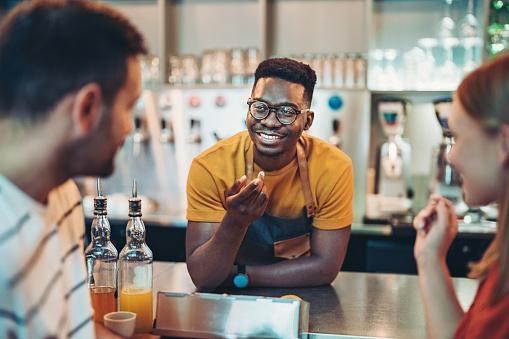 What is a bartender?
A bartender is a person who mixes and serves drinks to customers, either directly at the bar or via waiters and waitresses who take drink orders from diners.
Responsibilities of a Bartender
A bartender is typically responsible for:
Taking drink orders from customers
Mixing drinks accurately, swiftly and on-time
Interacting with customers
Verify the authenticity of each customer's identification to confirm if they are of legal drinking age
run the cash registers, take customer payments, and return change
Manage bar operation and keep inventory
Benefits of Bartending
Other than looking glamorous, here are just a few of the benefits of being a bartender:
You have the opportunity to socialize
One of the big benefits of being a bartender is the opportunity to meet, interact, engage in conversations with a wide range of people and create connections. Therefore, you should highly consider a bartender job if you are very social.
You can work and exercise simultaneously
You're at the right spot if the idea of spending every day behind a desk makes you sick to your stomach. According to studies, spending more than 8 hours a day sitting down is bad for your health. But, of course, you'll work various shifts while bartending, most of which are nights, and you'll never sit down. Even if standing for more than 8 hours a day might not be ideal for your joints, you are undoubtedly getting the recommended 30 minutes of exercise each day! That obviously can't be a terrible thing.
Your days are mostly free
Working as a bartender can be quite exciting, especially for a college student. Most bartenders work nighttime and weekend shifts, allowing them to engage in other activities they choose during the day.
You earn cash every day
In addition to the hourly wage, bartenders can earn more with customer tips for their service. You can generate more than your wages depending on factors such as how busy the night is, where you are, the kind of business, the price of drinks, and more.
The job security is decent
Unlike some other lucrative jobs that can suddenly fold up, bartending has continuous existence. There will, on average, be 111,300 employment openings for bartenders over the next ten years. Pubs and restaurants have existed in the past and will continue to exist because people enjoy eating and drinking.
Drawbacks of Bartending
While bartednign can be a rewarding career, it also has a few drawbacks. The can include:
Your social life can be affected
Bartenders have the innate social drive to be the party's life, even when working constantly; your daily interaction with the public can have an incredible mental toll on you in the long run.
You frequently have to work on weekends and nights
The specialized nature of working nights and weekends might be a drawback for some people, even while having free time during the week to run errands or spend time with friends and family can be nice. Life as a bartender can result in you not having as much free time as your family or friends because many others have different schedules. Some bartenders are required to also work on holidays, which may not meet your demands.
Irregular sleep pattern
As a bartender, you can develop the bad habit of having irregular sleep patterns because of doing late shifts and sleeping later in the morning.
A bartender job is exciting but can also be challenging to people who have chosen the profession, but you should not be bothered. We LIQUORexam prepare you using our alcohol server and seller training program on excellently handling a bartender's difficulties and drawbacks. Our course is comprehensively styled to teach you the fundamentals of responsibly serving and selling alcohol by showing you how to handle difficult situations and other responsibilities of a bartender.